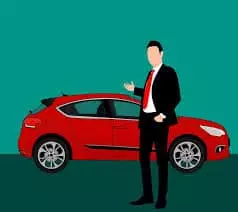 As a law firm that focuses on automotive dealership law, we have seen car dealers face a range of issues which may or may not end up in court, including deals and disputes with vendors, with customers, with real estate owners and users, and many others. Based on this experience, we have compiled a list of the most common legal issues of which dealers should be aware.  The below is a high-level summary only, is non-exhaustive in its description of specific requirements, and is not intended to provide legal advice for specific situations.  Dealers should speak with an attorney to determine whether they are complying with the below rules and others applicable to their dealerships.
Transfer of Title. If a dealer sells a car prior to having the title, the dealer must complete the title transfer (have the title issued in the buyer's name) within 40 days of sale.  R.C. § 4505.181(H).  For example, the floorplan lender may have the title, or the dealer purchased a car wholesale but has not yet received the title.  Failure to transfer the title within 40 days is a CSPA violation.  In addition, the remedy is an unconditional right to rescind the sale, as long as the buyer notifies the dealer within 60 days after the title actually transfers.
Application for Transfer of Title. Ohio dealers must apply for a certificate of title in the retail buyer's name within 30 days of sale. C. § 4505.06(A)(5)(b).  Failure to do so is also a CSPA violation.
Used Car Buyers Guide. The FTC's Used Car Rule requires dealers to post a filled-out Buyers Guide in every used car they offer for sale. 16 CFR 455.2(a).  The new Buyers Guide must be used as of January 2018! (Dealers: get rid of old stock).  The new form contains a section about manufacturer warranty and recommends a vehicle history report prior to purchase.

Dealers must still post it conspicuously on the car window.
Dealers must provide the original or a copy of it to the buyer. They cannot just print it at the time of delivery—dealers screw this up often.
Dealers must still check off if a service contract is being offered for purchase.
The Buyers Guide warranty must be consistent with any other warranty documents.
The back of the Buyers Guide should be signed by both the dealer rep and the buyer, and the dealership contact info should be listed.
Failure to comply with Buyers Guide rules is a CSPA violation under Ohio law.
Structural (Frame) Damage. Nondisclosure of prior material defects is a topic of many lawsuits.  Plaintiffs have a tough time trading in a vehicle with a prior frame damage, so they claim the dealer did not disclose it even though they specifically asked about accident history.  Therefore, it is important to create and use a written structural damage disclosure.
Rebuilt Salvage Disclosure. The dealer must disclose a "rebuilt salvage" vehicle to the retail purchaser in writing prior to the execution of the purchase agreement.  Failure to disclose is a CSPA violation and the purchaser may demand rescission of the purchase.  R.C. § 4505.181(B).  The dealer should use a specific disclosure form that (i) includes the vehicle information (year, make, model, and VIN); (ii) contains a notice that the vehicle has a title brand Rebuilt Salvage; and (iii) explains that the vehicle was once titled as a salvage, but has been restored for operation upon the highways and has been properly inspected by the state highway patrol. The customer should read and sign this form prior to signing the vehicle purchase documents.
Odometer Statement. The dealer must complete an odometer statement at the time of sale to comply with both federal and Ohio law. If the title for the vehicle indicates that the dealer has made an inaccurate odometer disclosure to the retail purchaser, the retail purchaser can demand rescission.  C. § 4505.181(B).  Dealers should check Carfax to see if prior history shows higher mileage than on the vehicle—indicating a possible rollback.  Also, if you suspect that an odometer has rolled over, such as a vehicle with an odometer that reads 80,000 miles but you suspect the true mileage is 180,000 miles and the odometer only has 5 digits, mark "Mileage in excess of mechanical limits" on the back of the title.  This box can only be checked with a 5-digit odometer.
Spot Delivery (Conditional Financing). This cannot be done without a proper (and fully completed) written spot delivery agreement. This should be drafted so that in case financing falls through, both the seller and buyer can cancel the sale, and the agreement should be consistent with what the installment contract states.  Problematic spot delivery practices have been found by courts to violate the Truth In Lending Act (TILA).
Repossession Notices. BHPH dealers need to comply with both the UCC and the Retail Installment Sales Act, R.C. § 1317, when repossessing vehicles.  For example, the dealer's related finance company must send a timely and proper notice of right to cure; the cure notice must contain specific UCC-mandated information; this notice may be combined with the notice of public auction requirements.   The auction also needs to be advertised in a publication such as Daily Legal News.
8300 reporting; cash sales > $10,000. Dealers must report cash sales of $10,000 (either in a lump sum, or if received in a series of related transactions) to the IRS.  The 8300 form must be submitted to the IRS by the 15th day after the date the cash was received.  The penalty for noncompliance is $25,000.
Completing purchase documents. Dealers' delivery personnel should be trained on delivery and sales documents. Common pitfalls include:

Failing to incorporate ancillary agreements by reference (g., arbitration agreement, agreement to provide insurance, etc.).
Properly documenting and having the customer initial negative equity on trade-in vehicles.
Not realizing that the dealer is overcharging for documentary service charge—Ohio law allows a max of $250, but not more than 10% of price!
GPS device – disclosure/privacy. It is not unlawful in Ohio to use a GPS device, at least for the time being. But BHPH dealers cannot prematurely disable a car to induce a customer to timely pay–this could constitute an illegal practice.  The FTC is also stepping up enforcement of privacy violations. Ohio dealers should use a disclosure form that explains how the device may be used and a section on use of information obtained from the GPS for privacy reasons.
Salespersons. Only licensed salespersons that are listed as the salespersons of the dealership can sell cars for a licensed Ohio dealership. Consignment sales are illegal in Ohio. Dealers need to keep current the licenses of all of their current sales personnel and cancel the licenses of outgoing salesmen.   Owners listed on the dealer license do not need a separate salesperson license.
Gene Friedman is a partner at Gertsburg Licata in the transactional practice group.  He may be reached at (216) 573-6000 or at [email protected]
Gertsburg Licata is a full-service, strategic growth advisory firm focusing on business transactions and litigation, M&A and executive talent solutions for start-up and middle-market enterprises. It is also the home of CoverMySix®, a unique, anti-litigation audit developed specifically for growing and middle-market companies. 
This article is for informational purposes only. It is merely intended to provide a very general overview of a certain area of the law. Nothing in this article is intended to create an attorney-client relationship or provide legal advice. You should not rely on anything in this article without first consulting with an attorney licensed to practice in your jurisdiction. If you have specific questions about your matter, please contact an attorney licensed to practice in your jurisdiction.