THE LEGAL FIX
Customer Contracts That Are Enforceable
In recent years, state and federal governments have renewed their focus on consumer protection, implementing a range of new laws and regulations targeting unscrupulous business practices. While well-intended, these laws also directly impact the relationships between ethical businesses and their customers. This is particularly true of contractual relationships.
So, what steps do Ohio businesses need to take to ensure that their customer contracts meet their own business needs and comply fully with existing consumer protection laws?
To find out more about B2B and B2C contracts, please read here.
-Louis J. Licata, Esq.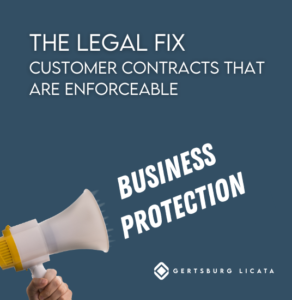 THE DEAL FIX
FREE e-Book Download: Sell Your Company for Maximum Value
You worked hard over the years to build your company and your brand. Now, you realize this might be the right time to sell your business.
Both an art and a science, successfully selling a business takes smart preparation and efficient execution. Our helpful guide will take you through five important steps to maximize the full transaction value of your business, including:
1. Understand Why You're Selling
2. Organize Your Transaction Team
3. Identify Your Value
4. Find Potential Buyers
5. Due Diligence
This step-by-step preparation guide and checklist walks you through what you need to do to start the process, assemble your merger and acquisitions (M&A) transaction team, and complete your preparation for a sale.
THE FOUNDER'S FIX
Laws of Leadership
Life lessons and leadership lessons need to stay top of mind. Our brains aren't wired for photographic memory, and those of us with ADHD (which is most entrepreneurs I know) need reminders even more.
I handle this learning with daily checklists. I believe that every daily checklist for leaders should point your attention to inspiring and resourceful messages of learning and growth. (Here's what mine looks like).
Today's personal growth lesson for me was a refamiliarization with John Maxwell's 21 Irrefutable Laws of Leadership.
The Law of the Lid – Leadership Ability Determines An Employee's Level of Effectiveness
The Law of Influence – The True Measure of Leadership Is Influence – Nothing More Nothing Less
The Law of Process – Leadership Develops Daily, Not in a Day
The Law of Navigation – Anyone can Steer the Ship, but It Takes a Leader to Chart the Course
The Law of Addition – Leaders Add Value by Serving Others
The Law of Solid Ground – Trust Is the Foundation of Leadership
The Law of Respect – People Naturally Follow Leaders Stronger Than Themselves
The Law of Intuition – Leaders Evaluate Everything with a Leadership Bias
The Law of Magnetism – Who You Are Is Who You Attract
The Law of Connection

– Leaders Touch a Heart Before They Ask for a Hand

The Law of Inner Circle

– A Leader's Potential Is Determined by Those Closest to Him

The Law of Empowerment

– Only Secure Leaders Give Powers to Others

The Law of the Picture

– People Do What People See

The Law of Buy-In

– People Buy into the Leader, Then the Vision

The Law of Victory

– Leaders Find a Way for the Team to Win

The Law of Big Mo

– Momentum Is a Leader's Best Friend

The Law of Priorities

– Leaders Understand That Activity Is Not Necessarily Accomplishment

The Law of Sacrifice – A Leader Must Give Up to Go Up
The Law of Timing

– When to Lead Is As Important As What to Do and Where to Go

The Law of Explosive Growth

– To Add Growth, Lead Followers – To Multiply Lead Leaders

The Law of Legacy

– A Leader's Lasting Value Is Measured by Succession
-Alex Gertsburg, Esq. 
THE CLIENT FIX
Save up to 53% on Workers' Comp Premiums With Minute Men HR
The Ohio Bureau of Workers' Compensation defines a new employer as a business entity or out-of-state business that creates one or more jobs in Ohio. The Grow Ohio Incentive Program was created by the bureau to spur job creation in the state by offering new employers two premium discount options, valid for 2 consecutive policy years:
Get a standard 25% discount by completing 1 of 3 safety requirements
Join a group-experience-rating program by selecting a sponsoring organization to receive a discount of up to 53%
Minute Men HR is a family-owned, trusted local sponsoring organization option, that will ensure the best discount possible for your business, as well as provide you with the following services, if needed:
A dedicated claims examiner & client relations manager
Hearing representation
Claim settlement review
Request a quote today by contacting our Sales office at (216) 647-0641 or request a quote at www.minutemenhr.com/request-quote.php
Employers must appear on a submitted group roster within 30 days of opening a new policy with the BWC. The following are not eligible for the program: professional employer organizations (PEOs), alternate employer organizations (AEOs), self-insuring employers, and employers transferring experience.
THE TALENT FIX
New Search Alert!
Gertsburg Licata is recruiting for multiple new positions within our company. Join our collaborative team to help support businesses on their growth journey!
Open positions include:
– Litigation Attorney
– Business Development Director
– Paralegal/Legal Assistant
Read more info about these positions on our Careers Page and apply today!
THE RANDOM FIX
Stay On Top of Your Emails
One of my favorite apps / plug-ins is Boomerang. Anyone who delegates should have this. I use it daily. Here's how it works: You send an email to someone, tell Boomerang when you want that e-mail to come back to you if that person hasn't responded to it (or even when they do respond, if you want a touch base reminder for yourself regardless), and Boomerang sends that email back to you when you want that reminder. It's a great way to keep projects moving, and to prevent things from falling through the cracks. It's available as a plug-in for both Outlook and G-mail. 
(Non-disclaimer:  I make no money from touting Boomerang. It's just a super-useful tool.)
-Alex Gertsburg, Esq.