Biography
Mr. Gertsburg has been a practicing attorney for over twenty years. His early career was spent with two large regional business law firms, where he represented private and publicly- traded companies and non-profit organizations of all sizes, as well as their owners. In civil bench and jury trials and before arbitration panels across the country, he litigated the entire spectrum of business disputes: commercial and contract, real estate, shareholder and partnership, broker-dealer, employment, unfair competition, and many others.
In 2003, Mr. Gertsburg proudly served in Iraq with the 762d Army Transportation Company. He deployed with his unit for a year, serving as a platoon leader and convoy commander before demobilizing from active duty in 2004 and returning to the practice of law. By that time, Mr. Gertsburg had trained and served in reserve and active-duty roles with the Army for ten years.
In 2006, Mr. Gertsburg became the first General Counsel for Broadvox, a large VoIP and telecommunications company. For the next ten years, Mr. Gertsburg served as its GC and Corporate Secretary, as well as an EVP and head of its human resources department. He led the company's legal department through numerous and varied legal matters, including corporate restructurings; real estate and M&A transactions; negotiations and transactions involving commercial, lender and investor parties; employment matters and creditors' rights, among others; and he spearheaded the company's litigation strategy, personally litigating most of its cases himself. Most importantly, while at Broadvox, Mr. Gertsburg developed an acute appreciation for what matters most to businesses: practical and cost-effective results. That same sense of priority and pragmatism now dominates his firm's governing philosophy.
Outside of law, Mr. Gertsburg enjoys his family, traveling, mentoring entrepreneurs, hiking, history and his Harley V-Rod.
Results
Led and managed multiple buy-side and sell-side merger and acquisition transactions for Broadvox, Inc. totaling over $100 million.
Obtained trial verdict in favor of client in Sonis v. Rasner, recovering stolen funds from predatory immigration consultant, and then affirmed judgment on appeal.
Obtained dismissal of $125 million federal patent infringement lawsuit in New York in Rates Technology, Inc. v. Broadvox, Inc., a case filed by a company identified as America's second-largest patent troll.
Obtained favorable resolution for Broadvox, Inc. in litigation with another patent troll in federal lawsuit in Dallas, Texas.
Overturned denial of significant variance request for auto dealership in dispute with local zoning authorities in Florida municipality.
Lead counsel in five simultaneous transactions by local commercial real estate developer.
Resolved highly-contentious shareholder dispute on behalf of corporate client accused of fraud by minority shareholder.
Obtained favorable resolution on behalf of brokerage firm in dispute over commissions with its client.
Represented insurance agency in sale to national banking affiliate.
Lead counsel in purchase of commercial real estate repurposed as a community recreational facility.
Obtained favorable resolution of copyright infringement dispute for local business accused of improperly using images of third party on website.
Obtained judgment in favor of client in federal court in Atlanta, Georgia in Abovenet v. Cypress Communications, in which client was accused of breaching a commercial telecommunications agreement.
Litigated and secured favorable resolutions of class action in Zaccharias v. Cypress Communications, relating to accusations of violation of telecom billing regulations Chicago, IL.
Recovered significant portion of funds owed to client from commercial tenant in breach of lease agreement dispute in southern Ohio.
Obtained complete recovery of stolen funds for client from insurance company that had insured real estate title agent who had absconded with client's earnest money in real estate purchase transaction.
Won summary judgment for client seller of automobile accused of defrauding buyer. Knight v. Horace Mann Insurance Co. (Cuyahoga County).
Litigated and secured favorable jury verdict for client in QSP v. Gibson, in which executive was accused of violating a non-competition and confidentiality agreement (Cuyahoga County).
Awards and Recognition
In a survey of his peers, judges, and opposing counsel, Mr. Gertsburg has been selected to SuperLawyers each year since 2016 and as "AV Preeminent" by Martindale-Hubbell each year since 2012, in addition to the recognitions listed below.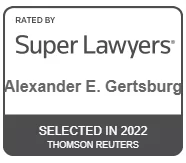 Education
Mr. Gertsburg graduated magna cum laude from the Cleveland-Marshall College of Law, and was honored with membership in the Order of the Barristers as a result of his successful tenure in the law school's moot court program. In law school, he also served as an extern for the late Hon. John Manos of the United States District Court for the Northern District of Ohio. He earned his B.A. from Miami University in 1997, where he studied political science and sociology.
Media
The State of Business with the Ohio Society of CPAs: In this episode, Alex explains how accounting professionals can do their best to avoid being sued.
Dirty Secrets of Small Business: This radio show is dedicated to achieving success for those starting a small business or those who already have one. Alex discussed his professional journey and perspective gained from inside big law firms and as general counsel, why CoverMySix and a military approach to protecting your business, and more.
Sliced – Episode 35: How to "Lawyer-Proof" Your Business: In this interview, Alex explains how being proactive can keep your business out of the courtroom, and offers some examples of low-hanging fruit in this program by Apple Growth Partners.
Multiplier Mindset® with Dan Sullivan: In the episode titled "How This Lawyer Gained The Confidence To Turn His Competitors Into Loyal Clients with Alex Gertsburg", Alex shares how a breakthrough shift in thinking and confidence in his business gave him the courage to defy his industry's norm.
Soar to Success Podcast: Alex shares his story and looks at the genesis and processes behind his "CoverMySix" service.
Accelerate Your Business Growth helps small business owners, salespeople, and aspiring entrepreneurs with the various aspects of business success. On this episode, Alex explains how business can "Stay Out of Court".
Growing Rapidly Through Innovative Business Practices — In this podcast, Alex was interviewed by Law Firm Excellence.
Minding Your Business on WJCU 88.7FM – Alex answers questions about Salary Transparency with DB and her guests [16:30]. What can, and can't, be shared when it comes to how much you make in the workplace.
3(ish) Minutes: New Trends in Law Firm Billing: The Gertsburg Law Firm is the first all value-billing business law firm in Northeast Ohio.  This means we bill for our work product and our results, not the amount of time we spend on it. Alex sat down with Steve Millard of COSE to explain innovative new billing strategies that law firms and their clients are using. Watch this short video to learn about ways to save money on your legal expenses.
Best.Podcast.Ever. Episode 26 – Go Ask Alex: How well do you know your friendly local business lawyer, Alex Gertsburg? Molly deconstructs her BPE co-host, a young immigrant to America, who joined the army, went to Iraq, and started his own law firm. We learn who has most influenced him and how a Spelling Bee continues to haunt him today.
Community Involvement
In addition to his current role as an Executive Board Member for COSE – Council of Smaller Enterprises, Mr. Gertsburg is a member of the Greater Cleveland Partnership advisory board,  and has served on numerous other boards and committees, including chair of the Cleveland Metropolitan Bar Association's Legal Innovator Committee, Board of Directors of Transitional Housing (now called Front Steps), and the VON Coalition.
Greater Cleveland Partnership, Member of Board of Advisors
COSE Council of Smaller Enterprises, Member of Board of Advisors, Member of Executive Committee and Peer-To-Peer Committee
Entrepreneurs Organization, Member
Founder of the We Solve Problems High School Essay Contest
Smile for a Lifetime, Board Member
Front Steps, Board Member, 2010-2012
Cleveland Heights Fair Housing Board, Board Member, 2004-2005

Admissions
Mr. Gertsburg is admitted to practice in the following courts:
All Ohio State Courts
The U.S. District Court for the Northern District of Ohio
The U.S. District Court for the Southern District of Ohio
The U.S. District Court for the Northern District of Texas
The U.S. Ninth Circuit Court of Appeals
News and Publications
Cleveland Metropolitan Bar Journal, "I Can't Believe You Haven't Read This Book Yet", December 2019
Cleveland Jewish News, "Firms Use Technology to Recruit, Retain Young Lawyers", November 2019
Soar to Success Magazine, "Alex Gertsburg Wants to 'Cover Your Six' and Prevent Legal Landmines in Your Business", August 2019
Neighbors Magazine, "From Moldova to the American Dream", May 2019
Cleveland Metropolitan Bar Journal, "Alex Gertsburg's 15 Rules for Building the Firm He Wanted to Work for and the One He Wanted to Hire", June 2018
Experience: Advocating for Experienced Lawyers and Their Families, "Lawyers Speak: How We're Creating an Educational Movement", American Bar Associate Senior Lawyers Division, Apr/May 2018
Cleveland Jewish News, "Military Experience Paves Way for Law Career", Jan 2018
Chagrin Falls Schools Supernews, "Chagrin Falls Schools Recognizes Two Organizations for Business/School Partnerships", May/Jun 2017
Ohio Dealer, "Audit Thyself", OIADA, May/Jun 2016
Cleveland.com, "Chagrin Falls Attorney Offering $8,000 to High School Students to Solve Cyber-Bullying", Dec 2015
Russian Magazine, "American Lawyer with a Russian Soul", Nov 2013
Crain's Cleveland Business, "Forty Under 40 – Alex Gertsburg", Nov 2012
Ohiobar.org, "Cleveland Lawyer Works with Local Charity to Help Homeless Women", Mar 2002
Associate of Corporate Counsel (ACC) Docket, "How to Save a Ton of Money in Legal Fees"
Speaking Engagements
"Protecting the Value of Your Business", Skoda Minotti Owners' Roundtable, September 2019: This full-day, interactive workshop designed for business owners who want to maximize the value of their businesses and exit on their terms explores the 5 Stages of Value Maturity, with Alex Gertsburg giving a talk on protecting the value of your business.
"Starting and Running Your Law Firm: Tips, Practice Management Tools, Cost Controls, Staffing Options, and More", CMBA Small & Solo Expo, September 2018: Alex joined a panel of experts to speak at this CMBA expo with a focus on "Gaining Traction – Driving Your Practice Forward".
"How to Stay out of Court": In this seminar Alex passes along proven strategies for saving companies boat-loads of money both inside and outside the courts.
Solon Chamber of Commerce, May 2019
Aurora Chamber of Commerce, March 2018
Small Business Development Seminar, February 2018
Chardon Chamber of Commerce, January 2018
OIADA Annual Expo and Convention, November 2017
"Leadership in the Face of Change", Cleveland Metropolitan Bar Association, March 2019: Alex was invited to join a panel discussion for Emerging and Established Leaders of the CMBA Leadership Academy
"Bulletproofing Your Contracts", BizConCle, October 2016: Alex sheds light on the key elements of business contracts – from understanding thresholds to the various types of contracts a business may enter into.
"What to Do When it Hits the Fan" with Bruce Hennes of Hennes Communications, August 2016: Alex and Bruce discuss how to protect and defend your business both inside and outside the courtroom when facing a crisis.